BIG SISTER KRISTA
& LITTLE SISTER MIA
Meet Krista & Mia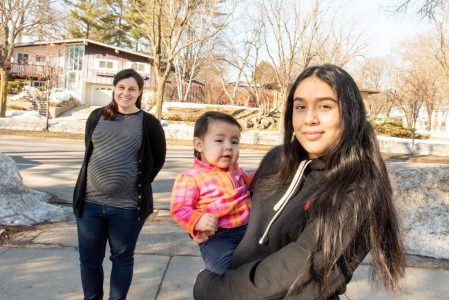 Little Sister Mia's mom, Vanessa, reflects on how Big Sister Krista impacted Mia's life:
"A few years ago, our family went through some unexpected trauma, and I was suddenly filling the role of mother, father, and friend for my children. My 13-year-old daughter, Mia, struggled in the aftermath, and I knew I couldn't help her alone. I reached out to BBBS, and Mia was quickly matched with Krista. Although Mia was hesitant at first, they grew close quickly, and I felt relieved to have Krista's support.
Less than a year later, we found out Mia was pregnant. Krista jumped right in, reading books about pregnancy, organizing a baby shower, and offering help to our family. But alongside these efforts, Krista helped Mia stay focused on school, which kept her from falling behind after Leila was born. Krista is always there to support Mia, whether it's homework or a teething baby. 
With Krista's support, Mia has gone through a transformation. She's learning how to balance school and motherhood, and wants to go to college to become a nurse. She is a great mom to Leila, and looks forward to a happy life. Mia and I treasure our relationships with Krista. She's become part of our family."