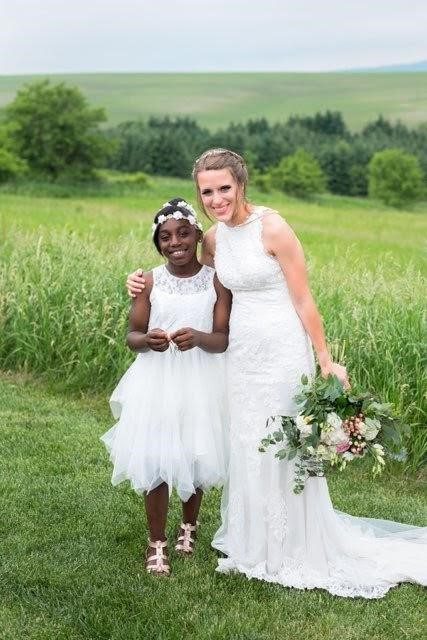 From the beginning, Alex has been dedicated and committed to Ja'Ziah. Not only is Alex a role model and a friend to Ja'Ziah, but they see each other as family. (So much so that Alex had Ja'Ziah be in her wedding, which was a beautiful and memorable occasion.)
Alex helps guide Ja'Ziah by helping her build self-confidence, dream big, and follow her heart. Ja'Ziah has always had a lot of energy and didn't always know how to channel that energy correctly. But, Alex noticed this and through outings and time spent together, Ja'Ziah learned to stay focused, stay connected, and use her energy and spunk positively. Ja'Ziah is now much better at being confident, having self-confidence, and being a leader.
Together they both have had some wonderful experiences. They do a lot together, like attend fun Big Brothers Big Sisters events like Bowl For Kids' Sake fundraising event. Ja'Ziah even won some prizes because she was confident enough to participate in games and quizzes. She was proud of herself, and she even bowled well!
Alex and Ja'Ziah's experiences together really built a foundation of trust and respect. The little moments are the building blocks to a successful match. For example, they would bond by talking, sharing ideas, and taking photos together when they went to the zoo.
---
"Alex is just a great person all around. She has met a lot of my family, is very respectful, has a kind heart, is easy to talk to and work with and has never had a disagreement or anything with Ja'Ziah. Alex is just a beautiful human being.
This was the perfect match." – Chaka Hillman, Ja'Ziah's parent.
---
Alex also enjoys making sure Ja'Ziah has fun memories by coming up with creative and clever activities. Alex put together an entire scavenger hunt for her Little Sister. She wrote all the clues and hid everything at her home for Ja'Ziah to find. These little adventures, although small, really helped her succeed emotionally.
During the pandemic, Alex never let down her support or commitment. Even though the way they communicate had changed, their bond remained strong. They checked in with each other weekly, but Alex also did drive-by check-ins. She would stop by Ja'Ziah's home to drop off care packages and fun activities for her to do.
If ever there is a challenge or a support need, Alex is always there. She is truly a fantastic role model. Their bond is so tight that they both stated that they plan to stay connected long after Ja'Ziah graduates high school, they both hope to have an everlasting relationship.