Bowl for Kids' Sake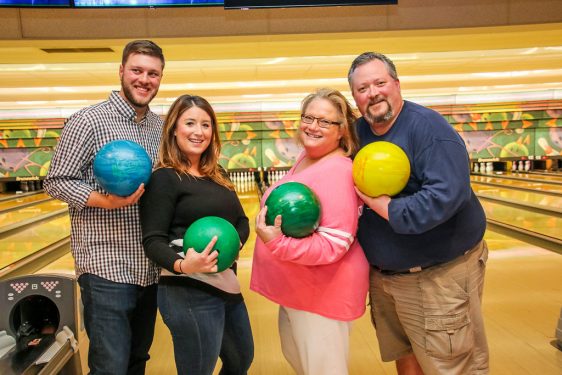 Bowl for Kids' Sake (BFKS) is Big Brothers Big Sisters' signature bowl-a-thon style fundraiser. BFKS is a multi-night fun-filled bowling event with prizes, games and friendly competition. Community members and companies form bowling teams of 4-6 people and do peer-to-peer fundraising prior to their bowling night to support mentoring and make Matches happen. Participants celebrate their fundraising success with family and friends over an eventful night of bowling.
Big Brothers Big Sisters of Dane County is taking Bowl for Kids' Sake (BFKS) virtual! To follow social distancing recommendations, we're making adjustments to bring the fun to you. Click here for the full Overview and Outline.
On Monday, April 6th, BFKS 2.0 kicks off with four weeks of challenges, competitions, and prizes! ​Each week, you can participate in 1) an Activity Challenge and 2) a Fundraising Challenge. Click here to view the full Contest Calendar.
1)  
Activity Challenges
are fun opportunities to catch the BFKS spirit. Each week you participate, you 
earn a raffle ticket. At the end of April, one Bowler wins a Yeti Cooler (courtesy of Festival Foods)! 
Don't forget to share your activities on social media (use #BFKSDaneCounty and tag us!), and get 
others excited about getting involved. 
2)  
Fundraising Challenges
provide extra motivation to ask for donations and recruit new Bowlers. 
Each week brings a new fundraising challenge and a new prize basket at stake. The more support 
you get for BFKS, the more opportunities to win BIG! Every Friday, tune in live on Facebook to hear 
who wins, and to learn about the next week's challenges.
At the end of April, we'll put on a virtual bowling contest and crown our top Bowlers, companies, and teams. You may not see your trophy for a few weeks, but bragging rights are awarded immediately. ;)
Just like before, asking for friends' and family support is easy. Once you register in our online platform, a fundraising page is created just for you, with built-in tools to ask for donations via social media, email, or text. The average gift is only $20, and every gift can make a BIG IMPACT for our Littles.
We all know BFKS is not about the bowling—it's about the kids. This year's event looks different, but the need in our community hasn't changed. Now more than ever, our impact is relevant and our mission is urgent. For the Littles and families in our program, the trusting, personal relationships they have with their Bigs continue to be vital. So at Big Brothers Big Sisters, we commit to providing critical resources, offering support, and ensuring the well-being of our entire BBBS family.
This work is only made possible through the support and passion of people like you. So thanks for "bowling" with us, and we can't wait to see what you can do with BFKS 2.0! 
View BFKS 2.0 Overview and Challenge Outline